The DUP or, as it should be known, – the political wing of the Orange Order –  has been supporting the Tories in the UK Parliament for years.  
It's nothing new.
The big difference is that now this hard-line, extremist right party has  the Tories by the balls as they delight in their role of "rescuers".
Remember – the DUP has been holding Northern Ireland back and to ransom for decades as they proclaim their "Britishness" is being "chipped away" by everyone else in the UK, Ireland, the EU and the world
Here's some of what the DUP  believe
There are big changes ahead :
London will be under Direct Rule from Belfast
 Instead of  shouting 'Order, Order'  during debates  the  Speaker of the House of Commons will call out
'No Surrender' 
A new look   for PM May – an orange scarf or a sash?
Rumours abound of BoJo being enrolled in a baton twirling course and needing to be ready  for the 12th. May was preferred but age ruled her out.So she will be making  music instead!
Scoop!
Here are the details of PM May's  summer walking holiday 2017 –
No more hiking in Switzerland or the Welsh mountains for the DUP's newest colleague.
She's got to walk in about 4,000 parades in Ulster – including Our Glorious 12th July!
What's the Glorious 12th July all about?
Celebrating winning a battle over the Catholics in 1690 with 4,000 -odd marches a year!. 
Tourists say the atmosphere is "intimidatory"
"louts roam around drunk".
"Sectarian remarks, foul language and behaviour abound "
Read all about Unionist/Loyalist/DUP obsessions  here and how much they cost us all 
https://eurofree3.wordpress.com/2013/11/02/northern-ireland-how-much-do-your-obsessions-cost/
NB:  since the marching season starts soon, and none of them want to miss the 12th, the Government are to seek a pause in the Brexit negotiations.
Has anyone told M.Barnier?
What about PM Theresa May's home?
Don't worry. Downing St's getting a makeover. Just to make it more DUP-like!
This is what it will look like when the work's finished!
It will make Theresa's new best friends feel at home and let her know who's boss now.
NB other British citizens and Johnny Foreigners like Ministers and Heads of State will probably be alienated.
Doesn't matter.
Theresa's holding on to her keys! Thanks to her new best friends!
Every British person should be asked 
Are Conservatives in the DUP pocket what the people of Great Britain want in Westminster?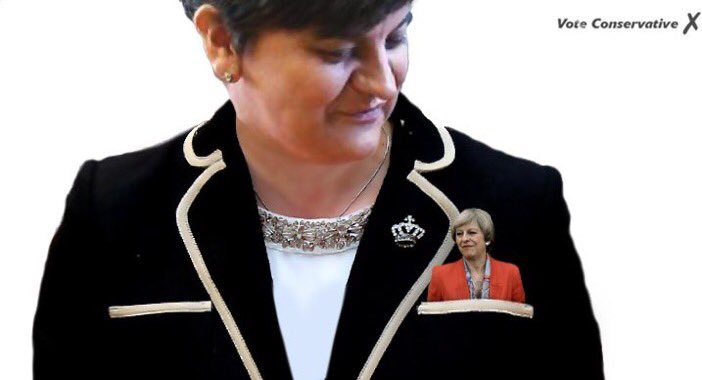 REFS
http://www.independent.co.uk/voices/dup-conservatives-northern-ireland-coalition-ulster-defence-association-paramilitaries-peace-process-a7782631.html
https://hiredknaves.wordpress.com/2017/06/09/our-friends-in-the-north/
#May's #DUP crutch and its paramilitary links #ConfidenceAndSupply
Pics Grateful thanks to  Tricolour@City hall