Since this time of year is for story-telling, let's continue with the tale of Anne and William John
You may remember they met at a dinner party  in the USA – Anne and her father having emigrated from Mayo after their homestead was destroyed in the Great Wind
https://eurofree3.wordpress.com/2017/10/03/anne-and-william-john-part-1-the-big-wind-1839/
William John was from Portadown,
"An Orange Lodge Grand Master", whispered some of his descendants .
When he met Anne
he was touring round the USA to source markets for his linen business.
He was  a "middleman" – buying cheap from the peasants who wove the linen and selling dear to anyone who would buy it. He was working on the cusp of linen industrialisation and he  certainly knew how to profit  as linen passed from being just produced locally to turning out  finished products in Belfast mills.
William John eventually acquired a large number of warehouses on Belfast docks and made his profits from buying cheap from the linen mills and selling dear to whoever would buy his linen ware –
hand-painted,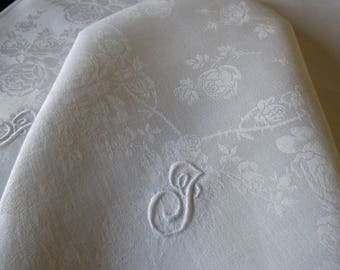 embroidered,monogrammed,
lace-trimmed tablecloths, sheets, towels, pillow-cases, shirts, chemises, petticoats.
Whatever you wanted for your person, house, shop or hotel, William John could find it or order it made, ship it to you and turn a pretty pound or more on it for himself.
Had he lived today he would probably have been an on-line sales billionaire!
He was charmed by Anne –
"an American wife is a great business asset".
Her French-origin Irish Catholicism was easily overlooked.
"In Belfast. she could be passed off as a Hugenot" he reasoned to himself
"there's a nice Hugenot community in Lisburn, They've helped make Ireland the lead producer of linen.
That'll do – she can be an American  Hugenot"
Anne liked William John. She liked his prosperity  and his business intelligence.
Like many Americans, she loved the idea of returning to  her homeland. From Portadown or Belfast she could travel to Mayo and look up family friends and relatives.
"Irish Catholic peasants" thought William John  "There'll be no visiting with them"
She accepted his marriage proposal
She agreed that any male issue  would be brought up Protestant and the girls  in the Catholic faith
She soon found out William John was an arch controller.
As time went by,  she became a battered wife.
Refs and Pics
http://www.causewaycoastalroute.com/linen-history-belfast.html
https://www.bidorbuy.co.za/item/286375488/Vintage_Old_Bleach_Irish_Linen_Damask_Tablecloth_Swansea_Design.html
https://www.etsy.com/market/damask_linen_napkins
http://whisper.sh/whisper/053163033a1a3f8a643eb0da347e916f9acaae/Meh-Ill-cross-that-bridge-when-I-get-there–no-use-stressing-somethi
http://queenanneboleyn.com/2012/11/04/thoughts-of-the-seymours/