A British general election ends with supreme power plopping into the hands of a small group of people from another country – Ireland – who think that they are British and have managed to find others to confirm them in that delusion.
As our PM sings "The Cash", I'm told this is "democracy at work"
It seems a very odd way for a country to run its political affairs
Who voted for the DUP to be bribed with British taxpayers' money?
What can the DUP offer Great Britain?
Besides its homophobia, Creationism, mysogony and  sectarianism, if all that were not enough, the DUP harbours a visceral loathing of Irish nationalism/ republicanism and Irish people in general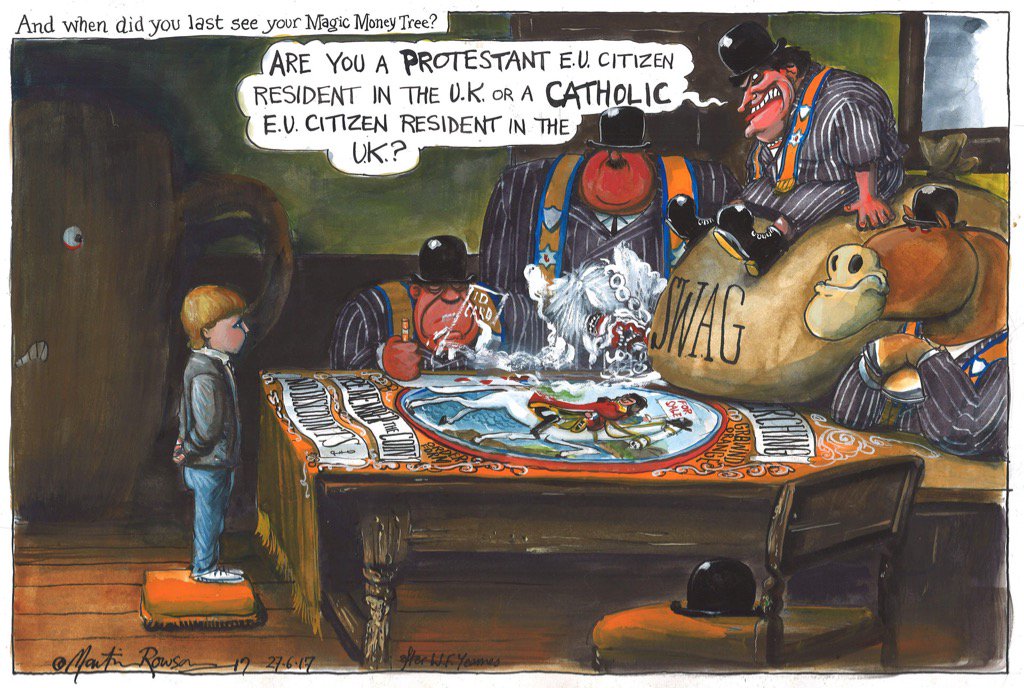 Queries: Don't  the Tories have a problem with that?
Don't they have issues with this hatred of HM Irish Catholic subjects?
What do you think of  the DUP-CON  "confidence and supply"arrangement?
The DUP provide the "confidence" – votes  while the Tories hand out the "supply" – ie cash.
 With this "confidence and supply" agreement  the DUP will technically have more power than Labour even though the DUP  do not even get 1% of the total UK vote
 Brexit, which was supposed to be about "taking back control" from Brussels, may actually hand over  a great deal of control to the DUP
 The DUP is unable to form a stable regional government in Belfast and now wishes to prop up PM May to negotiate with 27 EU member states
DUP intransigence and arrogance has deepened
 Its anti-rights, anti-equality agenda is, and will be,  even more boldly upheld
Queries: How is Irish Nationalism and the Irish government supposed to believe that the British government has no 'selfish, strategic or economic interest' in Northern Ireland now? 
How is the British government going to be an honest broker of the Good Friday Agreement when they are in hock to the DUP? 
This great song  £500  by The Remainers says it all!
from LAD/The Proclaimers
Pics
http://www.roberttwigger.com/journal/2016/12/30/the-white-rabbit-on-success-white-rabbit-3.html
http://tristan-manaburn.deviantart.com/
https://inews.co.uk/essentials/news/politics/cartoons-mocking-unionists-gone-far-says-unionist-politician/