As you all know our last post described a UK Cabinet meeting's decision to "talk up " the Union because otherwise we might all be getting ready for its funeral.
https://eurofree3.wordpress.com/2017/02/21/uk-shoots-the-union-dead/
This weekend the British  Labour Party conference in Perth, Scotland  spent more time talking about Scottish independence than about why no-one is voting for them anymore. Maybe it was just a deflection technique?
To discourage any further thoughts of UK break-up,  the Mayor of London described supporters of  the Scottish Independence Movement  as "racists"
Comment: Calling Scots  "racists" is  not  going to make them  want to stay in the UK. Why would anyone want to stay in a Union that designates them as "racists"?
2.Jeremy Corbyn, Leader of the British Labour Party declared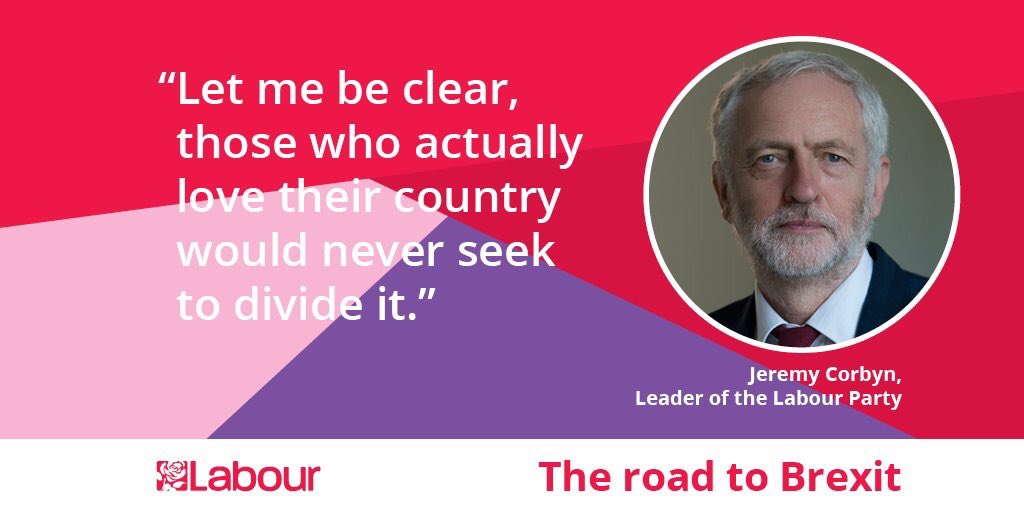 Comments: For  Scottish nationalists Britain isn't "their country" . Scotland is. That's the whole point of the Independence movement.  
Scotland  voted to Remain in the EU.  England voted to leave  so Scotland has to leave because that's democratic? Labour's not thought this one through, has it? Jeremy?
3. Echoing Clinton's campaign for the US presidency, the British Labour Party declared 
Comment: Fixed that for you – "TOGETHER WE'RE STRANGER"
Because on this week's evidence alone,  the British Labour party in Scotland is  certainly  one strange set-up. And they are clearly strangers to the Scottish mentality and present mind-set.
4. Kezia Dugdale,  Leader of the Labour Party in Scotland (14% support in the latest polls) declared she wants a "federal" UK – though nobody else seems to!
The Mirror  debunked "UK Federalism" immediately after the defeat of IndyRef1 in 2014.
It's not just unwanted – it's impossible.
https://eurofree3.wordpress.com/2014/09/25/squaring-the-circle-what-no-means/
SNP MSP Linda Fabiani said:
"Labour's conference anthem should be 'we'll keep the white flag flying here' – their stance is a shameful capitulation to the Tories on Brexit".
Talking about Tories and Brexit,   Conservative PM Theresa May,  not to be out-done by her Labour compatriots, encouraged Scottish voters in the up-coming MAY 2017  local elections to use them as a Referendum and to
"Use  council elections to show Nicola Sturgeon you oppose indy ref 2″
Scots should back the Conservatives on May 4 to demonstrate their opposition to a rerun of the 2014 vote.
She  rejected Ms Sturgeon's claim that the Brexit vote shows the Union is not a partnership of equals.
Comments: All that will NOT go down well in Scotland. It's hard to think of any steps that would annoy /alienate  the Scottish population any more.  
In fact, it's hard to fathom the English Establishment's poor reading of the mood in Scotland. But one thing we can be sure of:  these faux pas are  not accidents or mistakes. The English Establishment  know very well what the true situation in Scotland is like.
Unless. . . . they realise the country's most probably lost to them?
Doubts arise.
 Queries: Does the UK really want to stay together?
Does "Britain" i.e. England and Wales want to carry on alone into her wonderful  Brexit future? 
Major advantages would be 1) no longer having to subsidise either region or 2) put up with the demands of  approximately  50%  populations that are largely dissatisfied with the Union and 3) being able to proceed smoothly into that spectacular EU-free future the Brexiteers envisage for themselves. 
NB You may  notice "Britain" rather than " The UK " is increasingly being "talked up"  in the press and official speeches, even by PM Theresa May.
And that "seamless, frictionless" border in Ireland which is impossible  as it will be an EU frontier.
Unless  the issue will not arise . . . .?
http://wingsoverscotland.com/the-weasel/
http://www.telegraph.co.uk/news/2017/02/26/theresa-may-tells-scots-use-council-elections-show-nicola-sturgeon/